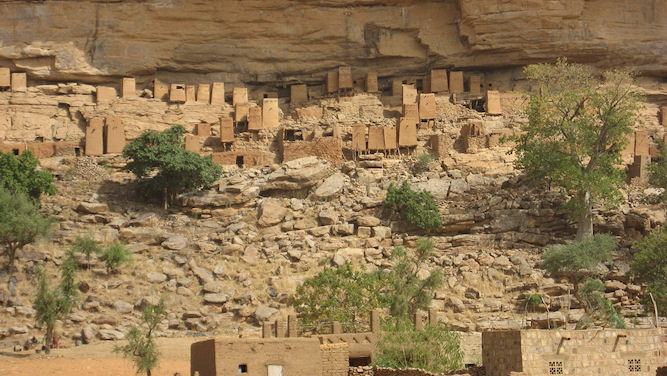 welcome. let's go there.
Our design team was enormously inspired by the extraordinary architecture, hand-dyed textiles, and bold colors and motifs of this beautiful region of the world. We visited Mali, Burkina Faso, and Ghana and were immediately surrounded by vivid color. Against the minimalist backdrop of earth buildings such as the great mosque at Djenne, women went about their daily duties wearing brightly patterned swaths of cloth that kept them cool against the hot sun. Marketplaces were a visually stimulating cacophony of scarves, head wraps, fruit, piles of fabric, and food cooking in the sun.
bringing it home
We drew inspiration from the crafts of West Africa, interpreting the colors, patterns and techniques into a palette of indigo with bold accent colors. It came to life in modern styles like our Tellem tie-dye hoodie, the Mali tie-dye dress and the Kente Sweater hoodie. It was all grounded in a palette of indigo with bold accent colors. The port town of Mopti inspired our Mopti embroidered dress and top and our Sikasso sweater hoodie. The light of the setting sun at Djenne and the Niger river inspired our soft, subtle color palette in items like the Mulai dip-dye sweater vest and dress. For summer, we translated handmade batiks and Kente cloths into fun prints and stripes on our Aburi tanks and tees and our Wagadugu stripe skirt and dress for girls and shorts for boys.
---
browse west africa catalogs