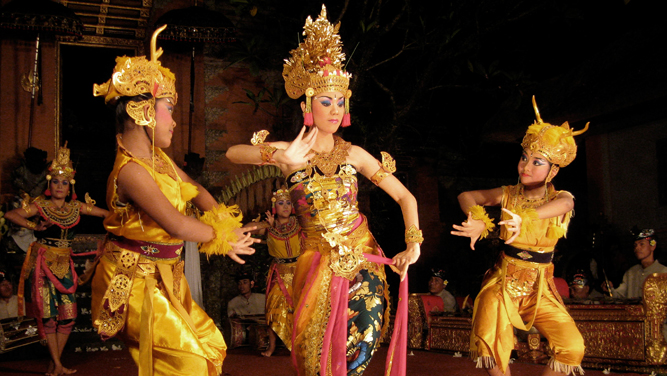 welcome. let's go there.
In Bali, you are surrounded and embraced by happiness. It's real. It's potent. You can see it on people's faces - a mix of dancing celebration and transcendent, spiritual bliss. It comes from knowing the power of one's own happiness is nourishing to everyone else...and a desire to fuel that love in all people. It shows in every detail. From the smallest nuance (smiling eyes) to the grandest gesture (temple offerings) always created with kindness.
Our journey took us from the capital city of Ubud to the laid-back surf vibe of Kuta Beach, with many stops in between. Our guide Agung, whose name means great, took us under his wing the whole way. We stopped by Katut's motorbike shop and headed off on a Bali safari, through bat caves and monkey forests, where we were awed by the lush botanicals of the jungle and the dramatic beauty of the terraced rice fields.
We were lucky to spend time with artisans, learning about the art of ikat weaving -- ikats are dyed in individual strands and woven together into vibrant patterns. We were blown away by the beauty, technique and variety of ikats we saw in Ubud, Bali's cultural and art center. We also tried our hand at the Indonesian art of "batiking," designing and dying our own textiles using liquid wax to create the pattern.
One of the highlights of the trip was our visit to a small mountain village of Pacut. On the way there, we visited an elementary school, where we had the pleasure of meeting the local children and donating some school supplies. We also learned to play Gamelan music and weave hats. To top it off, we participated in the full moon festival where we took part in ceremonial processions, creating our own offerings. We watched the richly costumed girls dancing the Legong and the poleng cloth-wearing men dancing the Kecak (Poleng cloth represents yin-yang and protection and we saw it on police officers, trees, temples, statues and even a bench). We joined the dancing and singing ourselves as part of the gamelan band. We felt honored and enriched to become part of the celebration.
We took a taxi ride around the winding roads of Kuta beach and arrived at Uluwatu, Bali's southernmost point and one of its most famous surfing destinations. In Bali, many temples are in out of the way places, including the one called Pura Luhur Uluwatu, perched on the edge of the cliff overlooking the beach at Uluwatu. You might be outnumbered by the monkeys on your visit, like we were. The architecture, ceremony and tradition of Bali and all of its temples were the perfect backdrop to our dressy side spring holiday collection. Bali is a great place to learn to surf, with famous breaks all around the coast of the island, including Uluwatu and Padang Padang. The beaches and people of Bali have a laid-back, happy vibe that easily became the inspiration for our summer collection.
bringing it home
Back in San Francisco, we had so much inspiration to draw upon. We started with Bali Arts & Crafts, our spring preview, in celebration of all the diverse arts of Bali. The ikats and batiks begin to come to life in girls' pieces like the Adat Batik dress and sarong short and Jasmine Ikat harem pants and a cute little romper for baby girls. We created the Legong Dancers tee for girls to honor all the Balinese dancers. You'll love the wardrobe harmony emanating from our Poleng skirt and dress for girls and the bold boys shorts.
We turned our Bali Safari into the theme for our Spring collection, debuting in late January. Cepat! Cepat! It's time to hurry up and jump inside the typical Bali jeep on our fun new boys' tee. It's another in our continuing line of graphic tees inspired by the "let's go" phrases of our destinations. Of course there's a safari jacket that looks great on boys (and makes a great "borrowed from my brother" piece for girls). We even named one of our boys polo after Agung, our great Balinese guide. Our boys tees are an island full of Bali fun -- scooters, tigers, elephant kings, crocodiles, frogs and more. We created some fun new silhouettes for girls, including the knot dress in 5 ikat and batik inspired patterns. The twisted knot waistband gives them a sarong sensibility -- it's a new twist on the knit dress. Throughout our Bali explorations, we came across a lot of print mixing. It inspired us to create our own modern version in 3 beautiful printed dresses for girls -- it's pretty times two. The lush natural environment of Bali comes alive in botanical jungle prints for girls (Look for dresses of Ginger Flowers, Dancing Ferns, Lukisan Gardens and of course, Jungle Flowers).
Our spring holiday collection brings to life many elements of temples and celebrations in Bali. There's a lot of gold in Bali fabric, especially ceremonial clothing. In fact, they'll actually paint the fabric with gold. We took this idea to heart and created our own "painted" golden temple border on the Golden Temple skirt and dress for girls. Our spring holiday collection for girls includes the beautiful prints of the Prambanan Sash dress and the Endek Flutter dress. Our Stone Dragon camp shirt for boys is highlighted by a crawling dragon sculpture. We also named one of our favorite boys sweaters after Arjuna, one of the greatest warriors in Hindi and Indonesian myth. If you've ever practiced yoga, he's the one the warrior poses are named for.
Our summer collection is a Bali beach party filled with lightweight, flowy fabrics and beachy prints and graphics for girls and boys. From the Kupu Kupu trapeze dress and halter top, with bunches of Balinese butterflies to the sunrise stripes of the Kangin Stripe playdress and boys polo, you're in for a bright summer delight. Bold Bali-inspired prints come to life in new silhouettes for girls. Moon orchids, surf lilies, sea flowers, egrets and more grace rompers, tops and dresses, flowy and sporty alike. For boys, it's an ocean of fun on an island of cool. Beachy knit shorts combine with surfy polos and graphic tees for a wave of color and fun all summer long.
Bali, a little place with a whole lot of happy, captured our hearts, our souls and spurred our creativity. We can't wait to see how you and your kids wear the love.