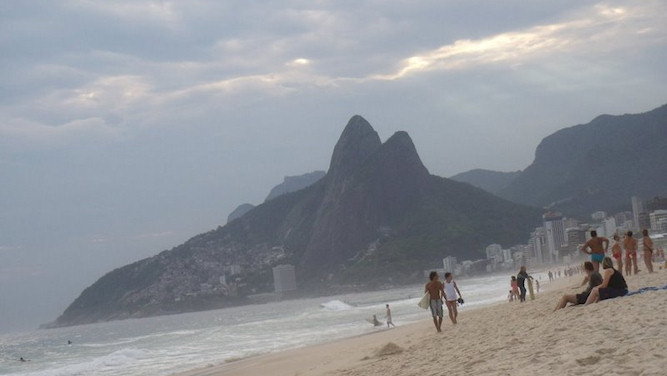 welcome. let's go there.
Emily, Laura B and Matt the architect (Laura's husband) headed to Sao Paolo, Rio de Janeiro and Brasilia for inspiration and adventure, Brazilian style. All 3 of them once lived in and always love New York, so they were excited to get a glimpse of this urban jungle.
In Sao Paolo, we visited modern art museums, walked the streets of the Jardin district, and discovered the Liberdade neighborhood during a Sunday flea market. It was interesting to learn that the first Japanese immigrants arrived by ship in 1908 to work on Brazil's coffee plantations. In Rio, we stayed in a bed & breakfast run by an artsy Brazilian couple. Situated in the Santa Teresa neighborhood, the house overlooked a valley populated with aging colonial homes. We spent a few afternoons wandering along the cobblestone streets and took the trolley into the city, taking in all the street art. Of course, we just had to watch the sun set over Ipanema beach. To really experience the architect Oscar Niemeyer's famous buildings, we flew to Brasilia, the carefully planned capital "city of the future" located in the driest region of this enormous country.
bringing it home
We combined the Japanese aesthetic with nautical notes, reflecting on the long voyage the immigrants traveled for a chance at a new way of life. The Japanese graphics on the walls of the Shimo Sushi restaurant inspired our printed French Terry pieces: Izumi Dress and Taiyou Hoodie for girls, and the Waves Hooded Pullover and Long Shorts for boys. The charming wrought iron work on the colonial homes inspired girly flair for our Brasilia Crinkle Dress and Santa Teresa Dress. The street art inspired our entire palette for spring. Other street art-inspired styling for our graphics - the Cavaco Polo for boys and the butterfly embroidery on our Zaba Stripe Halter Dress. The stunning Cathedral Metropolitana in Brasilia - a glorious thing made of concrete and glass, draped with abstract shapes of color - came to life in the print and shape of our girls Catedral Dress.